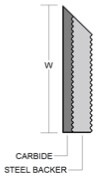 Consisting of a mirror finish C3 carbide knife that fits into a corrugated backing plate. Once the profile is ground into each piece, the carbide can be adjusted out for many sharpenings and then replaced when needed.
Tigra® SuperPac™ carbide & backer also available. Choose from various carbide grades: T10, T04, TL15, T03SMG
Centric also proudly offers WKW Euro BAK-PAK® partially corrugated for easier grinding.
KNIFE SIZES AVAILABLE
(WIDTH "W") :
38MM
(SET OR CARBIDE ONLY)
50MM
(SET OR CARBIDE ONLY)
60MM
(SET OR CARBIDE ONLY)
70MM
(SET)
Cut Length Range:
Minimum
40MM(1.5")
Maximum
250MM(10")