Grease Gun & Parts

WANNER GREASE GUN
Wanner high pressure grease gun, made in Switzerland, with 0 - 600 bar glycerine gauge. Push rod style for easy grease cartridge exchange (no red piston seal required).
REPAIR GREASE GUN SERVICE
Send your grease gun to us and we will repair and return promptly.
GREASE GUN PARTS
We stock a complete inventory of parts for same day shipment.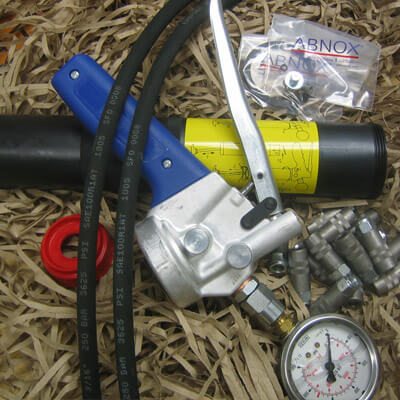 Parts List
NEW VERSION PUSH ROD GREASE GUN
PART #
DESCRIPTION
36590
CONNECTOR
35184-13.5"
13.5" HIGH PRESSURE HOSE
35184-20"
20" HIGH PRESSURE HOSE
35690
FILLER CAP CONICAL
83746
GAUGE 0-600 BAR
80128
WASHER
32325
ROTARY COUPLING
80365
WASHER
81394
BIGGER SPRING
32344
VALVE PIN
33772
VALVE SEAT
82205
O-RING
82666
COPPER SEAL
33716
NON RETURN VALVE
83398
NEW LOW PRES PISTON
38148
DISC FOR LOW PRES PIST
80657
BARREL SEAL
38004
CYLINDER
38195.04
PISTON ROD COMPLETE ASSY (CONVERSION KIT)
33707
LEVER
81697
SMALL TORSION SPRING
84631
SPIRAL PIN FOR PISTON
32340
PISTON
82495
X-RING
33773
PRES REL SCREW SHORT
82008
STEEL BALL (5/32")
35595
AIR RELEASE VALVE
80198
SEAL, CU JOINT
84391
SCREW FOR HANDLE (2)
33705
HANDLE PLASTIC
33731
GUN HEAD
38078
PISTON ROD
38013
COVER
38147
INSET (NEW STYLE)
38004
CYLINDER ONLY
81771
PRESSURE SPRING
38146
END SUPPORT FOR PISTON ASSY
84808
SECURITY DISC
82010
STEEL BALL (3/16")
43448
VALVE SEAT
33755
KIT BRACKET
CHAIN VERSION GREASE GUN
PART #
DESCRIPTION
N83746
GAUGE
K80128
WASHER
32325
ROTARY COUPLING
K80365
WASHER
K81384
PRESSURE SPRING
K81699
TORSION SPRING
N84684
SPIRAL PIN
K30643
VALVE PLUG
N84630
SPIRAL PIN
N82495
X-RING
H32340
PISTON
B30508
NON RETURN VALVE
K80657
JOINT SEAL
H38004
CYLINDER
K83576
PISTON SEAL RED
K80162
JOINT PAD
H32329
GUIDE
B39075
SUPPORT
K81763
PRESSURE SPRING
N83901
CHAIN .6m
N84681
SPIRAL PIN
B30657
END COVER
H39096
LINING
N82741
FLAT WASHER
K81656
PRESSURE SPRING
H39095
HANDLE
36590
HYDR. CONNECTOR
35184
HOSE
H30642
COVER PLUG
K80266
WASHER
H32308
PRES. REL SCREW
N82010
STEEL BALL
35590
AIR RELEASE VALVE
K80198
WASHER JOINT SEAL
ADDITIONAL PARTS FOR GREASE GUNS
PART #
DESCRIPTION
30643
VALVE PLUG
81384
PRESSURE SPRING
32308
PRES. RELEASE SCREW
30508
ASPIRATION VALVE
35590
AIR RELEASE VALVE
PART KITS FOR GREASE GUNS
PART#
KITS / PARTS FOR GREASE GUNS
33758
PRES. RELEASE VALVE KIT W/SCREW
33755
KIT BRACKET
38195.04
CONVERSION KIT TO ADAPT /CONVERT
CHAIN GUN TO PUSH ROD TYPE
32345
SPARE PARTS KIT FOR OLD VERSION
33790
SPARE PARTS KIT FOR NEW VERSION
33731.03
VALVE HEAD COMPLETE
OLDER STYLE PUSH ROD GREASE GUN PARTS
PART #
DESCRIPTION
83746
GLYCERING GAUGE
80128
WASHER
32325
ROTARY COUPLING
80365
WASHER
82010
STEEL BALL 3/16"
81699
TORSION SPRING
84684
SPIRAL PIN
43448
VALVE SEAT
84630
PRIM PIN
82495
X-RING
32340
PISTON
30647.01
LEVER
30614.01
VALVE HEAD
48256.01
ASPIRATION VLVE
80657
JOINT
38080
SUPPORTING DISC
38075
LOW PRES. PISTON
38004
CYLINDER
38089
INSERT
81771
PRESSURE SPRING
38013
COVER
38078
PISTON ROD
84808
SECURITY DISC
36590
HYDR. CONNECTOR*
35184
PRES HOSE 20"
35184
PRES HOSE 13"
35690
FILLER CAP CMPLT
80266
COPPER SEAL
32308.01
SCREW
82010
STEEL BALL 3/16"
35595.01
AIR REL. VALVE
80198
CU-JOINT
82250
O-RING (ASP.VALVE)
82205
O-RING (VALVE SEAT)
32339
SPRING PIN
81358
PRESSURE SPRING
** Prices subject to change, please contact us to confirm