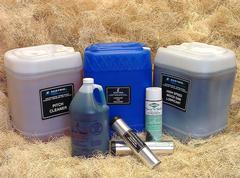 Woodworking plants can apply moulder bed lubricant either manually or automatically with a bed oiler system. As wood slides through the moulder, table lube prevents the stock from sticking/stopping which can lead to burn marks. Sharp feed rollers, aligned fences and proper lube application will ensure smooth operation with minimal scrap and less downtime.
With over 25 years of proven experience in the field, several customers have commented that Centric C5L moulder bed lubricant does a better job keeping the wood sliding than other products they've tried. "You betcha it's slippery". Our formula is a clear, non-staining liquid (removable with last bottom head). Centric moulder bed lubricant can also be used in various woodworking applications - not just moulders - apply anywhere you need to reduce friction/wear or improve material feed.
Our moulder table lubricant is also very safe & environmentally friendly for operator usage (non-HAZ MAT, non-flammable). We can ship in either 5 gal pails & 55 gal drums.