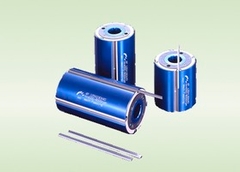 The Kanefusa Enshin planer heads available at Centric Inc. can deliver the superior finish and longevity you expect from your tooling. Kanefusa Enshin planer knives have two cutting edges effectively making these Kanefusa Enshin planning knives last 3-5 times longer than your typical high speed steel (HSS) planer knife. The Enshin knives durability and longevity come from Kanefusa's 'Advance Material Technology'. Advanced Material Technology (HS-HP) is embedded into the Substrate material and applied to the cutting face of the Enshin knife.
Below is a comparison of a HSS knife vs. HS-HP knife after cutting 1000 meters (3280 feet) of Spruce.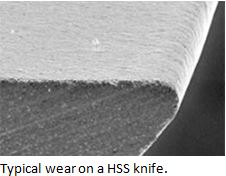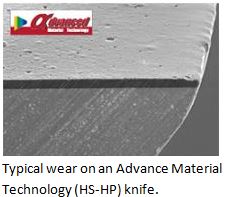 You can see the difference! The Advance Material Technology HS-HP knife holds its edge while the HSS knife became dull and requires service/replacement. When a Kanefusa Enshin planer knife stops performing to your expectations, you simply flip the knife and start cutting again! Kanefusa Enshin knives are double sided giving you two different cutting surfaces. It's like getting two knives for the price of one! Kanefusa Enshin knives are available in Advance Material Technology HS-HP Steel and Carbide material.
Kanefusa Enshin planer knives are locked into the Enshin planer head by a centrifugal self-locking system. The self-locking system uses centrifugal force to accurately lock the knife in place with run out less than 0.04mm.
The body of the Kanefusa Enshin planer head is made in three models; 1) The PowerLock model or HSK model is a quick change head that can fit any Weing HSK application. The PowerLock model is mono-block tooling in steel for highest rigidity and rated to run up to 12,500 RPM. It is notable that the surface finish you get with a Kanefusa Enshin planning head is superior, especially when used in combination with the PowerLock-System. 2) The Hydro-lock model internally pressurized and locks to your spindle with 2nd grade lithium grease (HPG2 available at www.centirctool.com). 3) The Bore-type model is a straight bore that utilizes a locking nut to fasten the Enshin head to the spindle. The Bore-Type and the Hydro-lock Enshin head bodies are made out of Aluminum for a lighter weight in balanced with high durability. All Kanefusa Enshin planning head models have a closed round shape that reduces noise pollution resulting in a quieter and safer work environment.
The cost of new tooling can be overwhelming. That is why Centric Inc. is pleased to offer this great deal on the Kanefusa Enshin planer heads:
For a Limited Time when you buy 24ea HS-HP steel or 24ea Carbide Kanefusa Enshin knives you get the Enshin planning head for only $200.00!!
For more information please contact Centric Inc. via phone at 715-848-4242 or email us at [email protected]. You can also find us on the web at www.centrictool.com and coming soon in 2018 Centric Inc. is proud to announce our new eCommerce online store.