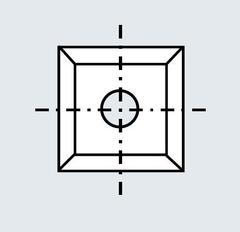 As the carbide insert turns... Reversible carbide insert knives make it easy to stay sharp! (and boy, do we stock a lot of them)
With the increasing popularity of spiral insert moulder heads, standard carbide inserts are a cost-effective way to increase run times and avoid the hassle of straight knife grinding. Use the same carbide insert up to 4 times (depending on the size)! Centric stocks a wide variety of sizes and carbide grades. Having trouble with high mineral content in maple? Often times, high mineral content in woods like maple, will breakdown the cobalt in the carbide (leaving it brittle and prone to chipping). Lucky for you, we also stock carbide inserts made wide carbide alloys specially engineered to hold up in high-silica-content wood.
We only stock the highest quality in carbide inserts : Tigra carbide inserts and Ceratizit carbide inserts have long been the world-wide standard and we offer either one.
Don't forget about custom carbide inserts as well. Call or email us for a quote.