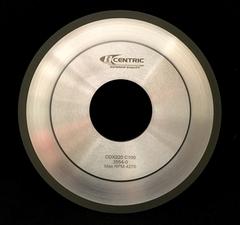 CBN, CDX, DIAMOND GRINDING WHEELS
Grinding wheels are a must have in any woodworking grinding room. Depending on the material and application (roughing out material or putting on a finish) there are several different styles of grinding wheels you can choose from.
APPLICATION:
What type of wheel do I use to grind High Speed Steel?
-CBN
What type of wheel do I use to grind Carbide Tip Knives?
-CDX
What type of wheel works best with Carbide?
-Diamond (also referred to as NCD)
If you are grinding HSS, most operators will switch to a CBN wheel for finish grinding. The CBN lasts longer than an aluminum oxide wheel and when complex profiles require a very thin kerf, it's much safer to grind with a CBN compared to aluminum oxide. We offer CBN wheels as thin as 1.25mm. If you are grinding carbide knives, most aluminum oxide wheels are not designed to cut materials as hard as carbide whereas CDX and Diamond are designed to give the best possible grind on carbide material. Just like other aluminum oxide or ceramic wheels, CBN, CDX and Diamond wheels are available in various grits (for rough or finish grinding).
Wheel sizes will vary depending on the equipment used. Most common is 8" outer diameter & 60mm bore with 5mm hub offset on either side. Outer rim shape can also come in a square or radius end.
Wheel thickness will depend on profile need. For example, are you grinding a straight knife or intricate crown profile? Straight knife sharpening will use a wider 4mm+ grinding wheel to cover more area (and sharpen faster) Intricate profiles may require a grinding wheel thickness as small as 1.25mm
Make sure your stylus or tracing pin matches your CBN, CDX, or Diamond wheel. We stock all kinds of hardened stylus pins for profile grinders. For example if you are grinding a crown profile into a carbide inlayed knife using a Rondamat profile grinder you could use a CDX 8" x 1.25mm x 60mm grinding wheel paired with a 1.25mm stylus pin.
What RPM works best? Typically MAX RPM on your Rondamat Profile Grinder (or equivalent machine)
BONDING
Wheels like CDX and NCD (diamond) are similar, but the bonding is different. When you grind carbide tip, the wheel removes both carbide and steel at the same time. CDX bond will avoid the wheel from loading up with the softer steel (causing burning / heat). What happens if my wheel is loads up? White Cleaning Sticks offered in various sizes: CLW ¾" x ¾" x 4", 1" x 1" x 6", etc…